Deluxe Japanese cut KUDO style knockdown karate embroidered training uniform.
This is a hybrid, KUDO cut heavy duty GI and includes a heavyweight hybrid style Jacket (no ties) & lightweight twill extra wide cut (drawstring) pants - KUDO Knockdown ELITE style GI. KUDO uniforms are specially created and unlike Kyokushin style Gis, KUDO Gis have no separate shoulder piece. The single material cut jacket allowing for throwing and grappling. Excellent for Japanese MMA styles.
Kanji embroidery can be changed, such as Kyokushinkai, Kyokushindo, Tsuyoi-Kakuto, or SSJ Dojo. Such as in the Hybrid Gi example below created for one of our sponsored fighters, Liam Medlyn of SSJ Dojo: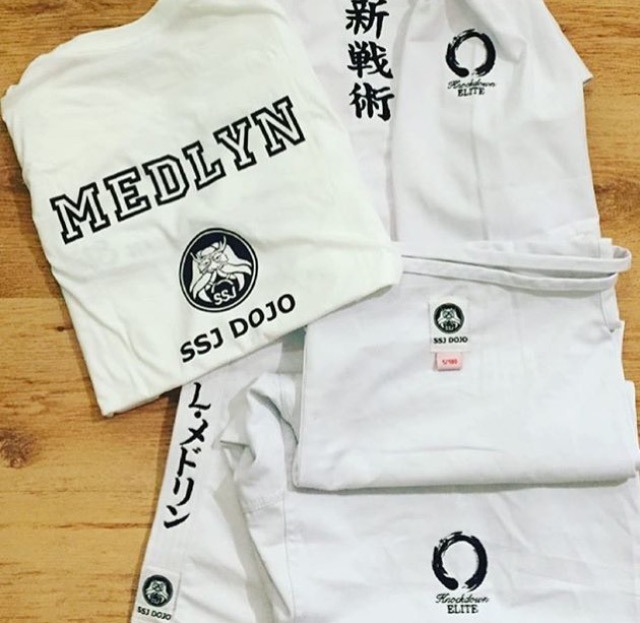 Hybrid Cut is available in our Premium Unbleached Ivory, standard beached White, original light Blue or Black Gi. Kanji style embroidery provided in black (unless another colour is requested). Please confirm requirements upon order.
Plain white belt can be included free upon request (add in notes).
Alternative embroidery (kanji & arm badge) available upon request, please confirm in Notes pop-up. For custom designs email any specific logos to us at:
info@knockdownelite.co.uk

See the images for the sizing chart. If you require different size jacket and trousers, no problem, just advise in the Notes pop-up on order.
Please state your
STYLE NUMBER
&
COLOUR LETTER
choices in Notes pop-up on order.
If you want Gi shorts instead of full bottoms please advise.
Love our Gi without embroidery? No problem!
Gi are made blank with our labels if no embroidery advised.
Please allow up to 28 days for delivery.